I wanted to tackle Coffee MLM Companies for a moment.
---
*This Blog Post has been Updated as of 1/31/2016 – The Coffee MLM Companies hinted to and discussed below – are either in business OR out of business at this time! When I wrote this, I was part of a movement that fizzled out. There has already been much written about the closing down of WakeUpNow – which for a time, threw it's hat into the discussion of making money, selling coffee, through MLM. There are many reasons for why this company did Not stay afloat – including outright theft by it's owner and CEO. Many would also argue, that not enough of the distributors in Wakeupnow, truly understood how to go about recruiting for mlm. Several factors go into the success Or failure of all MLM companies.  The information shared in OUR blog, is here to help you navigate through the MLM wilderness.
---
Please bare with me as I need to set this up properly.
I read a book called Wave 4 that told me one day everything would be moved through the MLM business model some day. Even Coffee. It was no surprise to me to see coffee mlm companies when I returned to the industry in 2009.
It makes sense too – for all the reasons we're familiar with, when it comes to the Coffee Industry. The MLM business model is so flexible that anything can be sold through it; if you have a product or service but do not have an idea of how to generate sales – using an MLM business model may be a good decision for you.
The Coffee industry is HUGE but not everyone can compete with the Starbucks and McDonald's of the world (That's right, McDonalds is the #1 Seller of Coffee in the World) – a lot can be learned from the lessons of Franchises though. Having a franchise located in several places gives a company like the two we mentioned, more opportunities to sell … coffee.
This is why MLM is the perfect model and why There are so many Coffee MLM Companies – business owners know this is a hot product, that lots of people love to buy; and know that MLM is the most cost effective way to distribute it.
The only thing is, with soooo many Coffee MLM Companies, hardly anyone is making any real money WITH the extremely lucrative coffee industry.  That's where we come in …
Let me see if I can repeat some of that for you – The POINT is if you build a network you can sell anything, even Coffee.  Members of the MLM Industry need to stop fighting over who has the better brand of Coffee.
Wait a minute …. doesn't WakeUpNow Sell coffee too?
YES – but you won't see Professionals from TopNetworkersGroup acting like there is no other coffee in the market that other people would like. WE understand Consumers …
See, most of you are not professionals and don't realize that your Coffee Customers will make an "emotional decision" while purchasing coffee, every single time. They will NOT make a logical one.
So trying to appeal to people's logic while selling coffee is why YOU and so many others are NOT making money with your Coffee MLM Companies; most of you have NO IDEA how to sell coffee; because you're not grasping (or not being taught) the basic Fundamentals of the MLM Industry.
Here is that Lesson …. "If you Build it, They Will come" –
What will come?
THINGS to SELL ……….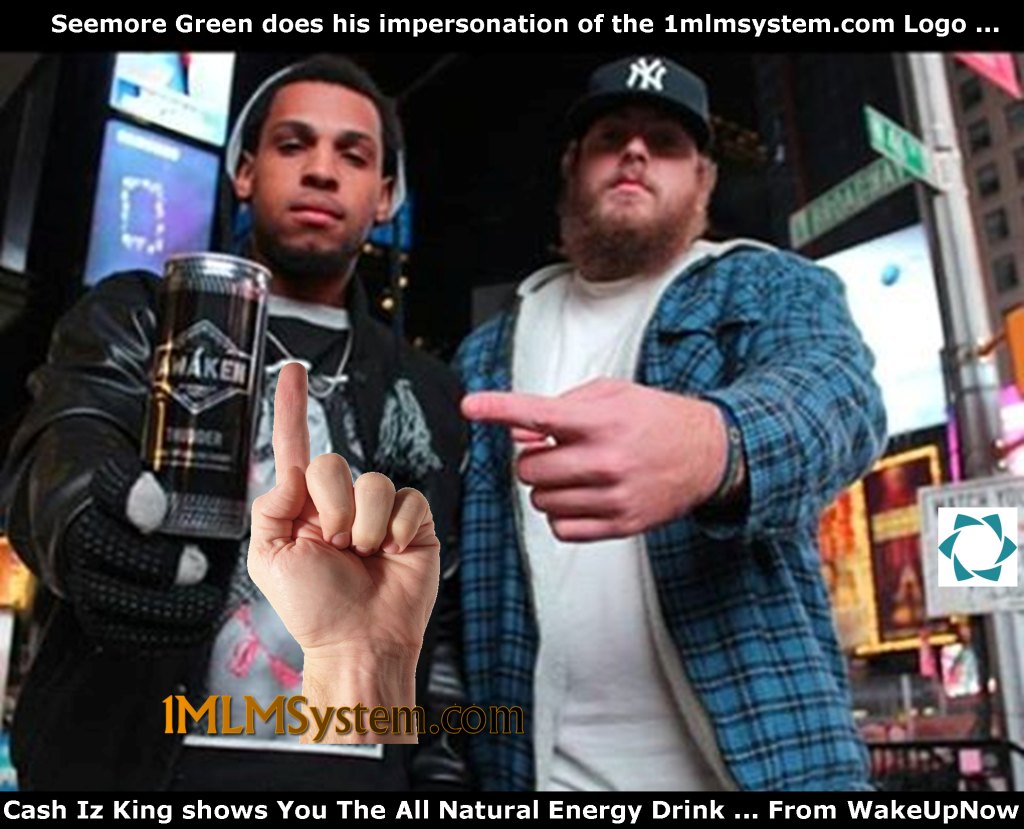 (Seemore Green in NYC with Cash IZ King showing off the NEW WakeUpNow all natural Energy drink – Awaken)
*update 1/31/16 – these two are still selling this product, through a different mlm company – proving that while any business can go out of business; what truly matters in the end, is the loyalty that business people show towards one another. While these two continue to make money together, 'silly rabbits' who jump around from company to company, program to program, team to team, … never truly learn how important loyalty is.
I'm thankful that ACN was my 'first MLM company" – I learned this lesson then. We sold long distance and local long distance; along with internet service and in 'some market' electricity and gas. I happened to live in a deregulated area, which had electricity. I was also Online early, recruiting people over the internet way back in 1999. I would meet people in areas that did not have electricity or gas yet, and they'd turn down ACN, telling me to notify them when it got to their market.
This was always the WRONG decision to make; I'd learn it later from attending trainings – that the time to build is NOW; not Later. If a product or service is 'coming' to your market you do not want to wait till it arrives to begin building a network to sell it.
Once you've built your network – now you and your network can sell ANYTHING through it. Literally; Even products and/or services that have not been Invented yet!
You see, WakeUpNow is selling Energy Drinks too – They're providing several products and services under ONE roof (one WakeupNow Hub lol) – and that's what we're doing through TopNetworkersGroup with our ONE MLM SYSTEM – providing several ways for US to make money, while focusing on what truly matters most; BUILDING our network.
Keep that in mind, if you're part of a Coffee MLM or looking for a good one to join; out of Several Coffee MLM Companies available today. The bottom line will always be, who's in business with you; and who are you working with in business.
Read more from TopNetworkersGroup about doing this 'the right way' –
TopNetworkersGroup Shows Solavei and WakeUpNow Congruency (Video Removed; Both companies went Out of Business)

Online Marketing Courses For The Wakeupnow Affiliate Program (Link Removed; LevelOneNetwork also went Out of Business)