Wake Up and Smell the Coffee!!
Always loved that saying, and due to both of my parents being coffee drinkers some how I found myself enjoying the taste of coffee too. But also, having been involved in network Marketing for so long, I can vouch for the industry when I say that I've never seen this happen before – Too many people are making money here – and too many 'veterans' of MLM are distracted with company hopping to notice – Wake Up and Smell the Coffee –
I have recently updated our WakeUpNow Presentation page over @ TopnetworkersGroup.com – who recently added Coffee to their collection of products and services… Take a look at the awesome Promo Video From WakeUpNow – and their Awaken Coffee Brand – which you can try out now as a FREE preferred customer of WakeUpNow – (you also get huge discounts on our other products and services –)
The Coffee Industry is one of the largest industries in the entire World.
I was recently reading a report on the Coffee Market which stated that currently the U.S. spends around $26 Billion Per Year on Coffee – and it's expected we'll be spending just under $34 Billion by 2018 – Naturally, MLM companies see the emmense value of getting a small % of that market. Think about it — If you got 1% of a $34 Billion Market; YOU would be making $3.4 BILLION per year — So what if you got a 1/2%? … or even a Smaller slice of that HUGE pie; Do you see how there's quite a bit of money in it for you as a business person to Sell Coffee?
This is why you now see So Many MLM Companies selling Coffee –
Truth is, WakeUpNow is going to make MORE money from selling the Coffee than you are as the Distributor – which is why We continue to SOUND THE ALARM To everyone in MLM, that OUR team as a 'better way' – WakeupNow is our Highest Paying Affiliate program within our One MLM System "to rule them all" – because we FOCUS on our Team first; We want our team to make money selling Several Brands of coffee; not just one.
And yet, if you and I are going to participate in an MLM that is selling coffee, we might as well Make GOOD money for it; and frankly NO company in the industry can match what WakeUpNow is doing, as far as how they are compensating the field.
The President of WakeUpNow, Jason Elrod, who recently spoke at the California Culture Conference in Newport Beach, California – said that he and CEO Kirby Cochran set out to FIX what they felt was WRONG with network marketing – such as the field not making enough money; and also, companies not truly offering Value in the products they're asking the field to market.
So Far I've spoke about Coffee – but I've hinted at the other awesome services provided through WakeUpNow; including Taxbot – the app from Sandy Botkin, that I have seen a handful of MLM companies offer to their members – because it helps us track the Deductions that are owed to us, as business owners.
So far in the month of January – I've personally Deducted over $400 – and I Didn't start 'using' the app properly, till about the 3rd Week of this month.
Here's a quick Screen shot.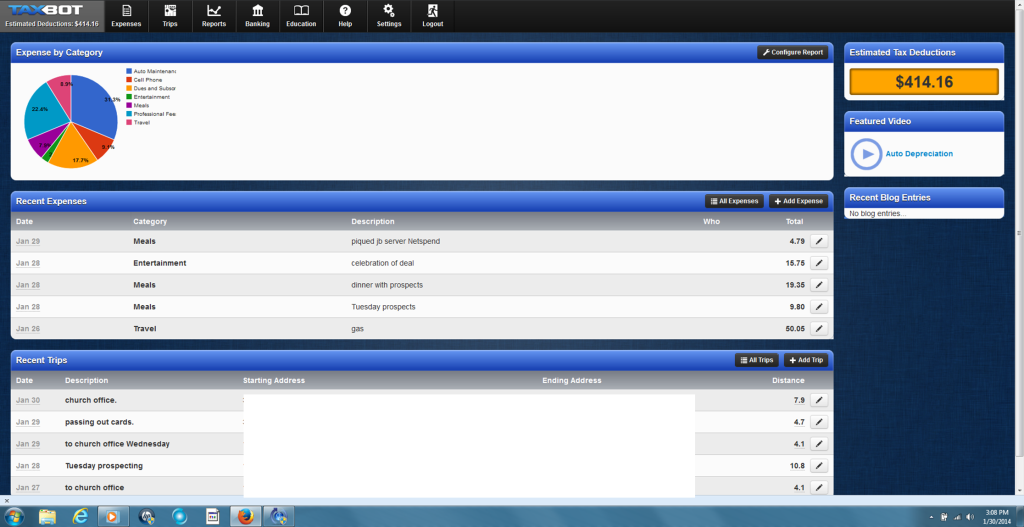 Imagine how much money I would've saved by now had I been using the app all month? As a business owner I've always known about my write-off rights! I've used as many of them as I could keep track of, but truthfully I needed a better method. This app gives me a better method; and I don't have to Pay 'extra' for it, like other MLM companies – which often DO require their reps pay for this awesome tool. I'm looking forward to all the money I'll be saving in February, and beyond.
Then there's the Vacations – so many people join MLM companies to improve their lifestyle; Going on Vacations is a huge part of those plans; and since the Vacation (Traveling) Industry is so Huge as well, MLM companies have sprang into action to get a piece of that pie as well. Not only do we have a wya to save money on vacations we'd like to take with our loved ones, or even by ourselves – we can also WIN points to take FREE Trips, based on our production as a Serious Founder5 and Beyond – with WakeUpNow – Are you still asleep?
How does earning $2,000 per month with a team of less than 200 people sound to you?
How about earning $600 per month with a team of 12 people???
Do I really need to say more?
If you need help, if you need training – that's what I'm here for. The only thing I ask is that you do what I ask you to do. I cannot stand people who sign up with me and then question me on how to go about getting sign ups. If I was able to make you want to partner with me, don't you think you can learn a few things from me? Don't you think it would benefit you to try some of the suggestions I make to you? When you consider that I only make money by helping others make money, wouldn't it make sense not to argue?
Common sense is not common; and there are a lot of ignorant people in the MLM industry; especially those of you who are new; All I ask, is that you have 'enough sense' to know that you do not need to be talking when Class is in Session; Take notes, learn from those who've been at this for a while; so you can follow in our footsteps; rather than trying to figure these things out on your own. Get Signed Up and WAKE UP … right Now.