So it's 3:27 a.m. and … I'm about to be up late … smh
Because I backed into some videos I had not seen yet, from one of my mentors Daegan Smith. Several months back I wrote about The Best Marketing Video Ever, and I absolutely mean that when i say it.
My idea of Multiple Checks came directly from a video I saw featuring Daegan Smith (watch the video on the link above!) – A few months ago I also talked about Cedric Harris who made a decision to Leave Visalus for … more freedom. He mentioned the he too is a Multi-Prenuer.
Folks, you and I are Leaders.
You would not be HERE if you were not one; Leaders are Readers and the ones who are not,  are not. So it's fair for me to say that you and I are leaders; and yet we'd probably both admit that Cedric Harris has carved out a special niche for himself as one of the most dynamic leaders we've seen in our industry, in the past few years.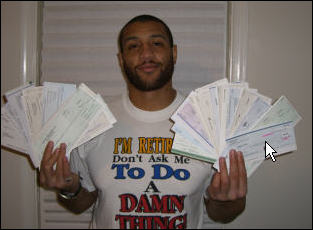 And yet … He is taking notes, when Daegan Smith Talks.
Check it OUT!
This is what leaders watch. Everyone else watching garbage on television.
He Leads off with 2 success stories; and Then THIS gets right into some powerful Information — in this PREVIEW from a Live Event, for Maximum Leverage, you are about to be blown away – as Daegan Smith will cover one of the most important topics when it comes to achieving goals; The stories he shares are evidence that He knows what he's talking about. The people in the room endorsing him, prove that This information is worth taking seriously.
Get your note pad out.
Eliminate all Distractions… and with that being said; time for me to hit 'publish' – To get back to this awesome video and learn more myself!
See MORE related information –
Russel Brunson Shout Outs to Daegan Smith
Branding 101: A Smart Marketing Video
Check out the New PageOneSystem (beta mode at this time) and also the One MLM System (to Rule Them all) lol … you'll get that joke if you actually WATCHED the video 😉 —- Work With the GROUP and get ready to Get plugged into Real education like THIS video and so much more; inside of our Membership Areas for OUR Teams; We take Education Seriously. The more skills you learn the more money you're going to make.
If you don't wanna take My word for it; You can always listen to Mr. Smith –
…. No, not That Mr. Smith … Daegan Smith.
The guy at the top, holding up all those Checks.
That was always my vision for myself when I decided to get Back into MLM In 2009. After working with a team of people from my previous experience in MLM, I decided it was better to start my own team through TopnetworkersGroup. I wanted to do, much of what Daegan is talking about, but I also had to go on my own journey first to get Everything set up and in Place.
What I'm excited about at THIS moment in time, is what's about to UNFOLD over the next few months.
Just wanna shout out to the (Leaders) business partners that I've had the pleasure of working with over the past year … Because It truly has been a real pleasure working with all of you ::::: #nospecificorder Pamela AllidoisWin Jessie, Milton Mouzon Jr, Robert Cooper, Lana Moore, Jabari Courtney, Stacy Gilliland Flores, Stanley Lamar Smith, Daniel Caswell, Shawnette Sampson, Steve Morring, Jeani Morrison, and John Gambone :::: You are all some of the strongest Leaders in the Game; anyone that has the honor of working with you will be successfu;, you've all given me insights that have been helpful; and I thank each and every one of you for allowing me, to go on this journey with you – thank you for Working with me and making all of this Possible!
To those of you READING this now; We are always inviting Leaders to work WITH the Group.
Make your Decision today!