Press any "Click Here To Join" Buttons anywhere on this Page, to Create Your Networking Profile on CrazyGood.
A Live TOUR of CrazyGood.com - See what's Inside. For just $10/mo You can start earning TRUE Residual Income, from social networking. It's got everything any Social Networking site has - wit ha Compensation Plan attatched. Get Started with us Today!
ERROR: When filming this LIVE Tour, I encountered Trouble with getting some of my links to Post. I needed to End the 'link' with a "/" ...
This is one of those Trial and Error things that I discovered, and perhaps is a small 'bug' in the Beta Site that I'll send a suggestion in to 'improve' - Enjoy This LIVE Video and TOUR of the INSIDE of CrazyGood, that was created for the partners of the TopNetworkersGroup
Update December 27th, 2010
Welcome to our "See More Page" - for those of you out there, who, Understandably, needed to see more. No disrespect meant to Myspace, or Facebook ... We are Proud of their Success ... We just want some of that, for YOU, and for US as well. On behalf of the "Top Networkers Group", I want to be sure to let you know Why I decided to get involved with this venture ... While inviting Leaders to help build THIS opportunity. If you're Lost at Anytime - Be sure to WATCH THE VIDEO on the HOME PAGE - which many people Skip, ... we're such an Impatient Society nowadays...
You Can EARN $100,000 PER MONTH for Social Networking - that is why I Joined.
This is a Real, Genuine Opportunity ... Where you can Work with our Team, and Help CREATE a serious financial SHIFT in YOUR Community. As is emphasized in The Video on THIS page, CrazyGood is a "Beta" Operation. That is HUGE folks; Imagine this - Just 10 of your Friends from Facebook Join YOU on this site. You would earn $10/mo - Your overhead is gone. You do not have to Leave Facebook - Stay - and INVITE your Friends...
10 of Your 10 Friends from Their Facebook accounts - decide to Join Them; and YOU are now making $100 per month from this website. That is the POWER OF EXPONENTIAL GROWTH! The Further something Duplicates away from you, the Wider it Becomes. 10 x 10 = 100 - So when 100 people tell 10 ... (100 x 10 = 1,000) ... You would earn $1,000 PER MONTH in our Opportunity. When those 1,000 people tell 10 each, you'd earn an extra $10,000 per Month - and finally when those 10,000 people 'in your 4th circle' have 10 of their Facebook Friends come over to CrazyGood - YOU would start earning over $100,000 PER MONTH - in Passive, Residual Income.
I've been Paid (screen shot coming soon) - They pay out ON TIME - via PayPal -
If you do not have a PayPal account, you can get one for FREE Right Here.
Be sure to Click our "click here to join" Buttons located throughout these Websites. Once you get signed up, you can use MY Website to Market this Opportunity. You will not have to Explain Anything. Simply Share our Website with others, using the PERSONAL URL, that WE will provide to you. You do not have to be a Sales Person, just be a Social Networker ...
These days, there is so much HYPE out there, and even though this is only $10, it's still an Investment. I personally believe in making WISE Investments, so please take a look at the information put together on this page, as I feel it will help YOU make a Wise Business Decision.
I Signed up for the Money!


(click on these Screen Shots to see them in FULL Screen)

I signed up November 7th and as of November 19th, had made $14; I see Potential ... Crazy Good Potential ...
UPDATE (12/27/10): I was paid $18 on the 14th of December via PayPal
Then I noticed, it looks Just like Facebook!
They have people I may know on, my Friends, even a place to Chat LIVE with people that are online!! I can network with others that have similar interests as me, especially in Making Money from home!
They also have GROUPS!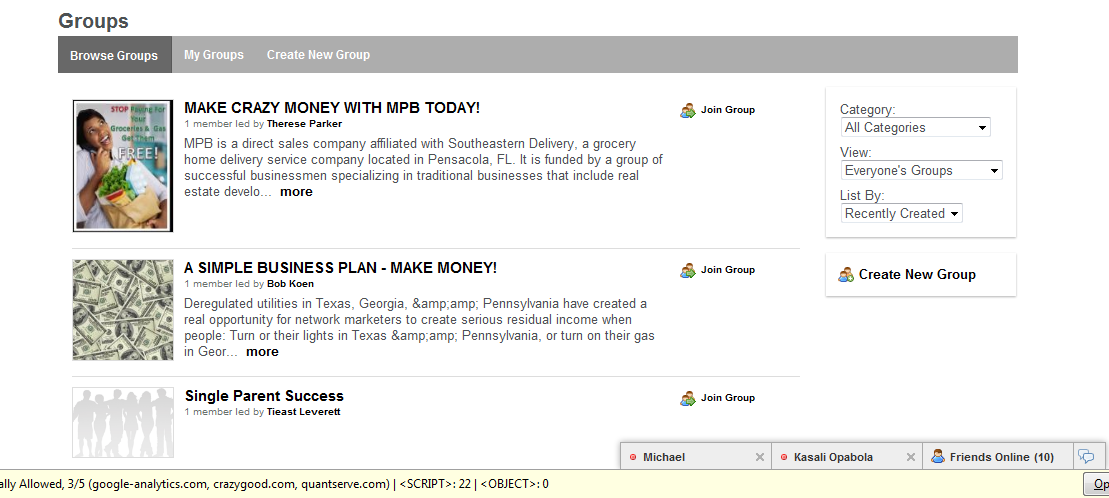 They have, Groups, a Video Section, Blogs, AND a LIVE Broadcaster that allows YOU Chat online, on Cam with FRIENDS, LIVE, On your Page! But, What I also loved, as you saw in my video, is the ability to Donate to Charity. I Chose my Church! Who would You like to DONATE MONEY To?
In the example above we mentioned earning $100,000 Per Month; You would also, if all 100,000+ people in your Network Picked the SAME Charity as You, be Raising $100,000 PER month FOR that Charity - How much GOOD would you do? What if you told more than 10 people? What if you told 20 friends, and they told 20 friends .... through 5 levels ...
Use our Earnings Page to find out just how much MONEY you could RAISE!
LOOK, I can Donate and Raise MONEY for my Church!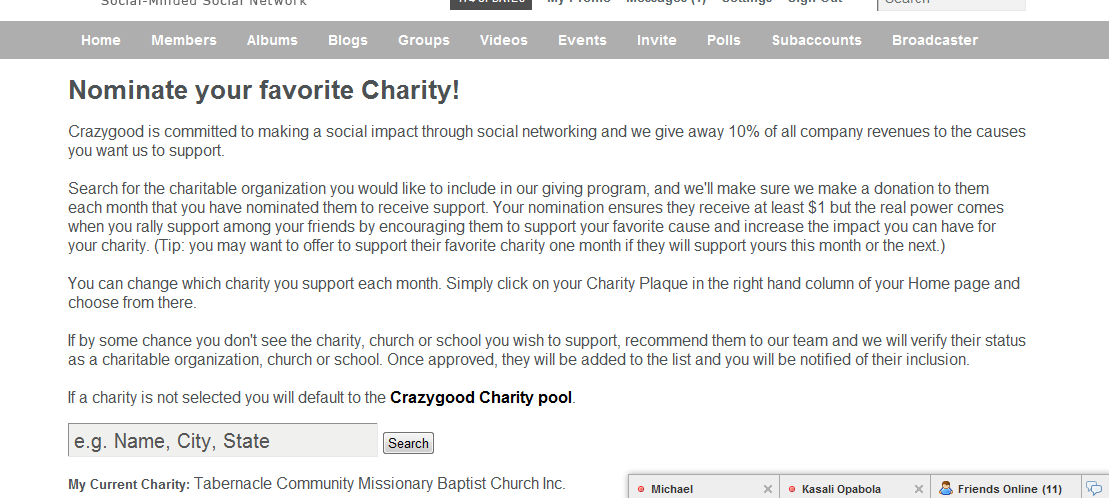 Nominate YOUR favorite Charity.
Make Money WHILE doing Good.

And this is just the beginning folks... As more and more people join, as this site makes more and more money, Together, all of us will see Improvements to the site, as well as a LOT of charities receiving a LOT of money, to do more GOOD in the world. Now is your chance, do not wait, do not think TOO Hard about spending $10, even if its just to Check this out. JOIN NOW! Click Below.
CLICK for How Much You can EARN - We have Borrowed the CrazyGood Worksheet!