Multiple Streams Matter.
That's the message from the TOP!
Welcome to TopNetworkersGroup – our official blog 'It's All of It" which is dedicated to the ongoing development of professionals.
Professionals are the ones seeking to earn professional money.
To do that it means being able to operate At a professional level. Most people in the home business industry are Amateurs.
Just being honest.
Multiple Streams Matter – and Real business people understand that.
You and I really and truly never know when SHIT is going to happen.  When a stream is about to run dry, it's possible for us not to even notice!  So is it smart in business to only have one stream? Of course not. Yet, how many of you are being told, over and over to 'focus on one company' … ?
Well, as you GROW in your knowledge of business you'll come to realize that many of these people mean well, but are most likely looking out for their own pockets instead of yours.  For example – The Daily Fantasy Sports industry is a huge, growing industry. It's a place where money is going to be generated. However you'll meet leaders who'll tell you to ONLY Play on one site; which is mind boggling because as I type this, several people have 'players accounts' on several DFS websites.
It would be foolish for us, in MLM to fix our mouths to do that and yet, that's what you see.
That's why I'm glad this happened. Gonna share the video and then Want to share a few more things with you that are all related to how Multiple Streams Matter!
WARNING: The video is 20 minutes BUT I promise you it's worth watching!
In this video I talk about two industries that are 'growing' and generating money that you and I need to be tapped into. We need to position ourselves, so that we can position others. We also do not need to limit ourselves to making money in just ONE of these growing industries, 'if' we can figure out a real way to get paid from Both!
Don't you agree?
With our team, with our 'system' you tap into the INDUSTRIES not just the Companies within those Industries.
But let's talk about Why you'd want to do that –
Not only because Multiple Streams Matters sounds like a good catchphrase but, because it's the truth. If something happens to one of those companies, then What happens to your DFS income when the ONE company in the DFS industry goes down? Another thing to consider is this, What happens to your Online Shopping money when the Online Shopping website you've chosen to 'focus on' goes down for maintenance? Would you really put all your 'eggs' into one online basket?
Does that make good business sense to you?
Of course it doesn't.  (I hope it doesn't) …
With our system we put you in 'both' of these companies and our system allows you to leverage your teams into these companies as well. If one goes down, you're still going to be able to play daily fantasy sports together on the one that is working. You're still going to earn a % of the money that's on the table. By working together to grow our teams, and refer players to these sites, we grow the size of the pot! Here are the TWO images of FantasyDraft and DraftFury that are referenced in the Video.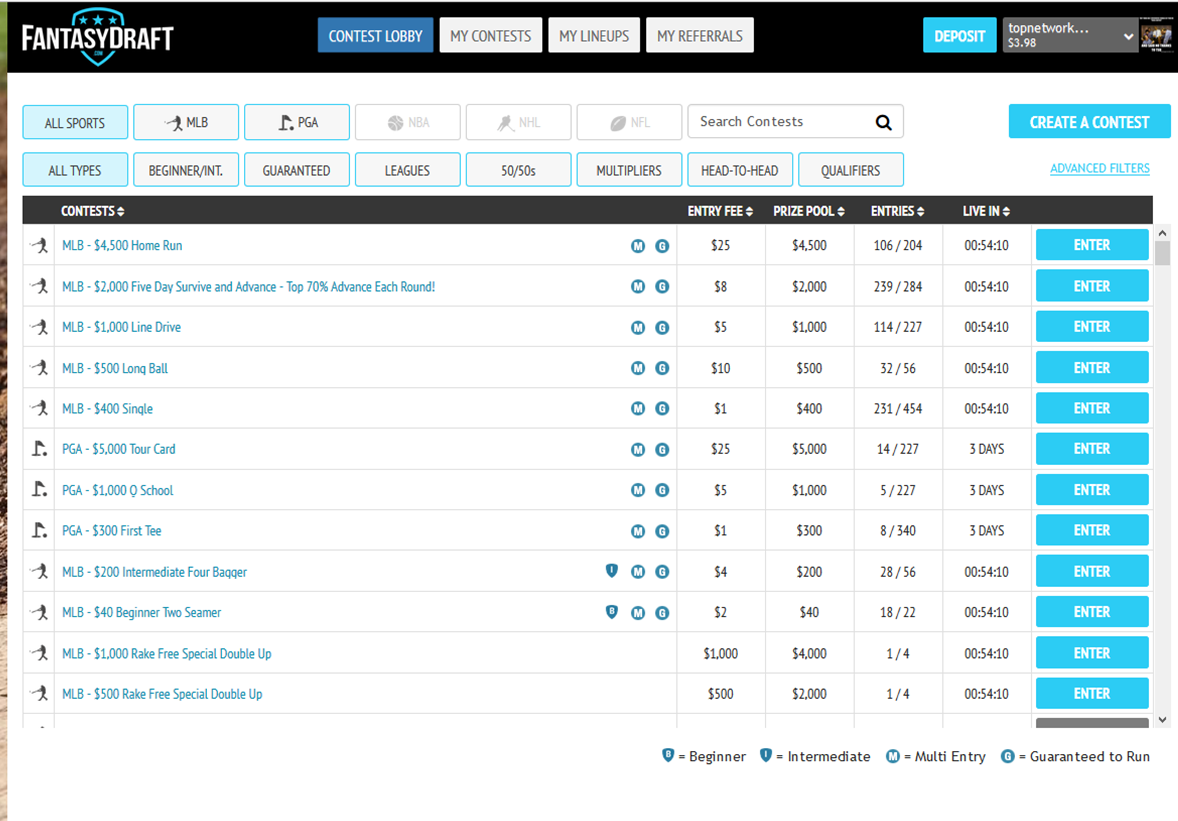 Multiple Streams Matter – when one DFS site goes down, our team still has a way to make money on Daily Fantasy Sports competition; we still have a 'system' that would allow us to add additional programs to help us as a team 'tap into' the Industry – which is so much MORE important than an individual company within this huge, growing Industry.
Pick up the FREE Report from TopNetworkers Group Below!
Get the FREE Report on The Daily Fantasy sports Industry from TopNetworkersGroup – which will discuss the Size of the industry and how large experts predict it will grow to, by 2021.
5 years from today you can either be saying "I wish I got involved early with Daily Fantasy Sports" – or you could be saying " I am So Glad I got involved with the Daily Fantasy Sports Industry" – MORE importantly, you would also be pleased with yourself for choosing to work with a team of professionals who positioned you, to position others to make money in the INDUSTRY; not just 'a company' in the industry.   If we wanted to sell Tea; we wouldn't just sell Tea for 'a company' – we'd offer a selection of teas because that's smarter business.  At the very least, that would be our ultimate goal, even if we started with One brand; to eventually sell several. Because that's smart business.
Because in Business; Multiple Streams Matter
Also read: