Edifying is the MLM Secret you missed while listening to all that training.  This is the glue that brings a team, a network together.  It's the key to building a business in a industry filled to the brim with competition.   How do 'you' stand out in a industry that has almost no barrier for entry.  It's 'almost' entirely unregulated, and all time, discussions arise within the industry on how best to self regulate each other. This can lead to infighting that the outside world see's, and looks the opposite of the MLM Secret I mentioned at the start.
Edifying, the secret tool in your toolbox that is often underused.
If it's being used at all….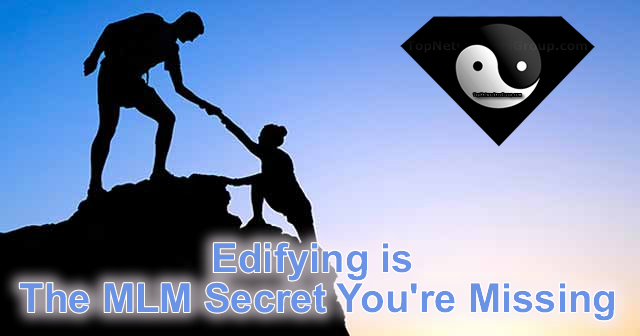 A few times where I've spoke directly to the topic of Edifying can be found here….
One of the quicket sways to tell the difference between a professional and an amateur in network marketing, is through Edifying. Ask them to explain the chart and see if they can do it. Look at their attitude toward the topic, is it excitement or disdain?  Sadly sometimes we get confused by people who earn money in network marketing. We can think they are professionals, based on their position on the leadership board. You're watching the wrong statistic though.   The real stat is, how many of their Leaders are 'also' on that board?  Are they working together to lift even more leaders onto that board or bragging about their greatness?
Leaders who embrace Edifying, are the Professionals we need.
You're not a Fortune 500 company, so Edifying is your best friend.  When used properly you'll be able to build large networks rather quickly.   Everytime I meet network marketers who are struggling, edifying is NOT a priority or a part of their plan. If you want to build a team that will earn real ongoing income for you and with you, Edifying is your ticket!
The few reasons I've heard for not Edifying others are amateur level.  People say that they don't want anyone to use this as a 'crutch' for why they're not succeeding.  The reality is, not edifying is a big reason most of you are not succeeding. it's not a crutch, but an understanding of how people work.
You 'might' have a trust relationship with the people you introduce to a business. The problem is, people don't respect you 'like you think' they do.  Edifying is the process of building respect for another person, so that person (an expert in your MLM, or on your Team) can build up Respect 'for you'.  Do you see why you're struggling yet? No one respects you.
Ego, unfortunately, has people assuming that others respect them.  The disappointment of learning the truth, is what runs folks away from network marketing. They'll make excuses like "I just don't like selling" or, "I don't wanna have to get people in…."   When in reality, if you're using Edifying as a tool to build your business, you'll never have to sell anything.  You won't be getting anyone into anything, but instead creating an environment where they feel honored to be part of what you're doing.