I'm a veteran of the MLM industry. Joined in 99′ and my 'first tour' went into 2004; after 5 years with my first company i decided to start my Own business, building websites; using most of what I learned in my first company I was able to acquire customers and build a few solid streams of income. Then in 2009, I got a phone call from my old 'upline' and got the 'bug' to get back in the game; It's crazy how much Changed in a few years. During my MLM hiatus (2004-2009) I began studying Internet Marketing; learning from cats like Stephen Pierce and Matt Bacak; I was using landing pages, and auto responders – and thought 'man this would work so well with mlm' —- A guy named Mike Dillard did what I was "thinking" about doing…. he merged the two and created an entire industry …. of idiots.
Today, most people in the MLM Industry are relying entirely on technology;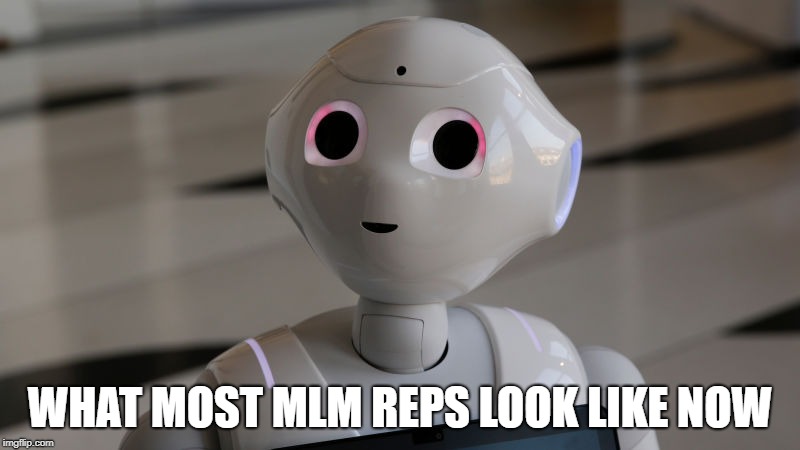 No human touch; the business model was never intended to function that way. That's why the Positive press that was starting to emerge on MLM has gone entirely away; Everyone hates it now. … again …
I feel that's because most people's introduction to "Mike Dillard's version of mlm" lacks the Fundamentals to understand he combined TWO Separate Business Models into One; and while people are learning a lot of great internet marketing concepts; They're learning NOTHING about network marketing; to the detriment of the entire industry.
Attrition rates are higher than ever before. People are making even less money; The throne is open …. the right team of well trained individuals will take over this industry and help it rise to the position it should be at in our society; we actually 'should' want to empower one another, instead of corporations – but 'getting there' requires an industry of 'representatives' who fully understand what they are doing.
The longest distance between any two points, is a short cut; and right now MLM is filled with short cut mentality; I'm currently on the look for 3-5 Leaders who want to run with me; but as usual, not all who apply are qualified;
In 2010, I realized the industry had changed; I realized we were entering the 5th Wave, just as #RichardPoe predicted; I started getting ready. In 2012 me and a business partner launched the 1 mlm system 
 – but we were not on the same page; The page I was on, and still am on, is "Team over Company" — my partner however, decided to Focus on a Company; that went out of business – which was the entire point of NOT focusing on a company;
When Two "leaders" of a team are not on the same page; the rest of the Team won't be either.
So I cannot have 'founders' that wanna do their own thing if our mission is to be successful. No more "Broke Man Plan" types who come into my system to "steal" my ideas and 'try' to use them for self. No more "Prosperous Rhinoceros"  types who wanna 'try' to use concepts I teach, to write BOOKS to sell ,that misquote me – No "Retired MLM Vets" who Call Me up to pitch me on My 1mlmsystem, as if HE came up with the very idea I Just shared with him. (all True Stories; Names changed to cut down on Drama)
Way too much nonsense out here; but it's all good; Those folks helped me learn that 'some things' need to be protected until a proper leadership team is assembled. This new video goes into why the MLM industry needs what we have to offer. That will only be possible, when we have identified the right people to build with. The Rich Man's Plan will help us find those individuals. Are you one of the people We need?
The "Live Office" is back; new and improved; to help me with sorting people properly to ensure I'm building 'with the right people' – This message is going out to the official list in a few minutes; going up on TNGforever ::: the right 3-5 people are in store for are life changing journey; and we will bless the lives of all who align themselves with us ….. Here's to the future!
---
More from TNG:
Al King, CEO & Founder
TopNetworkersGroup.com