Some leadership challenges are all too common.
Big reason why I'm a fan of Game of Thrones, is they often deal directly with leadership deficiencies in various Characters. Robert Baratheon, the King we first meet when the story begins, is a great warrior, but a terrible ruler. He'd rather leverage all of the day to day duties to others. This, was his downfall as King. People he entrusted with power, saught more power for themselves. They conspired against King Robert, and plotted for his downfall.
Leadership Challenges you and I to always pay attention … never take your eye off the ball.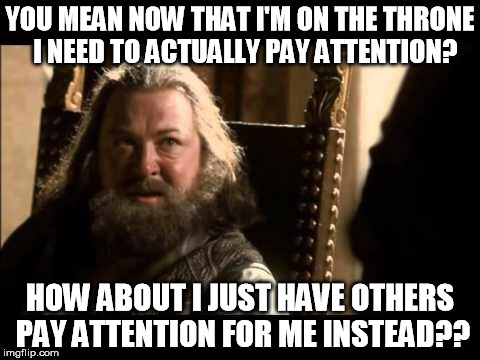 If you're on my official email list for Topnetworkersgroup, recently you got an email from me that was important. It talks about how I've been on a long walk.
This is a quote from John C. Maxwell, and also refers to a blog post here on "It's All of it" – about leadership, influence, and asks 'who is following you?"
"If no one is following you, then you are just taking a long walk." – John C. Maxwell
The text of my Email read:
I've been taking a long walk. Long walks are good though, it helps to clear the head….
On this long walk, I have noticed 'what and who' people are following, instead of me. What people follow, fails them. Yet I don't feel bad because they made that decision, to follow the frauds, the scams, and the short cuts – Instead of me.
This long walk has helped me get clear on who and what I need on my team; I often ask you to unsubscribe, and will do so again because if you're on my list and we're not working together — WHY ARE YOU HERE —- ?
…. The long walk continues.
---
Leadership Challenges us to be Honest with ourselves, and those we lead.
Being honest with ourselves, can be difficult. After seeing how many people were signing up for my system, who were not 'completing' sign up steps I had to be honest. Is my system as 'simple' as it needs to be? Do I just not have the right leaders to build this team with? If so, is it up to me to find The leaders I need?
All of these questions, I have asked myself, on this Long Walk.
I've been meditating on it all, and the answers have come. Knowing what I need to do, and doing it, are two different things. This is a challenge that all of us can probably relate to. We know that ultimately to build our businesses, we must make contact. Waiting for people to come to us (Attraction Marketing) can only go so far. For those who, like me, believe in more hands on approaches, let's have a serious discussion today.
Visit a system I'm proud to recommend; let's partner here and discuss what Else we can do together.