Teamwork Makes The Dream work In All Areas of Life, especially Sports and Business –
The first lesson in sales that all of us learn is everyone is tuned in to WIIFM;
What's In it For Me?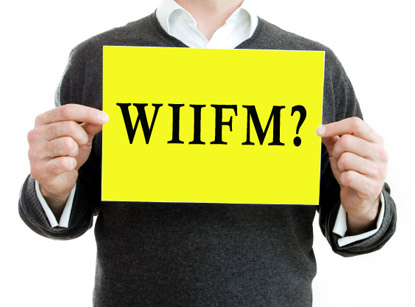 Our Challenge is finding the people who can see What's In it for WE …
We live in a society that promotes 'the individual' and individuality is the root of Ego. It's about Me, Me, Me – it's the "no I in Team, but I in Win" mentality.
But this is Fantasy!
The reality; what wins Championships – in all areas of life, especially sports and business – is Tenacious D!! Team Defense!
It's One Unit Mentality that achieves success.
It's teamwork.
This is what I love about the network marketing industry; because the blueprint to success has already been laid out by so many people who have built teams and accomplished incredible financial fortunes along the way. In this industry you are either Building the team or you are building your team 'within a team'. I think it's easy to forget that most people who come into this industry and even several of the people who sign up, come from 'a matrix for their minds'. Most people come from a society that promotes the individual; meanwhile what we ignore is the reality.
No man is an Island.
There is no such thing as the 'self made man or woman'.
These are myths that people tell themselves; often to feed their ego…. because the ego NEEDS to be fed.
But; the reality – the truth that shall set you free is this; Teamwork makes the dream work. What dream do you have? What team do you have?
Back in January I put together a video where I talked about the importance of "having the right people" on your team. In this video I discuss the reality of star players like Kobe Bryant and Lebron James, who need team mates to help them win. As great and as dynamic as these players are, none of them, not even the great Michael Jordan himself, were able to win without getting help from others. However, "the others" didn't all have to be superstars.
Yes, Kobe had Shaq, and later needed Pau.
Yes, Lebron needed Dwayne Wade and Chris Bosh.
Yes, Michael Jordan needed Scottie Pippin.
But the other 'role players' were just as important as the superstar role players. Because in all of these situations, someone is playing a role. Even between the superstars, there is a leader and a follower. That's what makes a successful business parntership; that is what makes a successful sports teamwork partnership – because Two Leaders Cannot Lead Each Other. This is what broke up the Kobe/Shaq Lakers. This is what would've doomed the Lebron, Dwanye Wade Heat – but Dwayne doesn't have the same kind of alpha male personality as a Lebron James; or even a Kobe Bryant.
This speaks volumes to the importance of chemistry.
Sometimes its just not in the cards for two people to work together within the same space – or the same team.
You see with Kobe and Shaq, you had two alpha males and honestly, I feel Kobe was willing to follow Shaq, however Kobe constantly challenged that leadership in ways that annoyed Shaq's Ego. So for example, Kobe would take the ball to the rack or shoot a jumper rather than run the offense and allow the ball to go into Shaquille. However what you could tell is, Kobe just wanted to get a win, for the team. Perhaps people did not understand this within the moments that it unfolded, but now that we look back over his career and see times when Kobe could've left the Lakers; you see a person who really and truly wanted (and seemingly still wants) to bring championships to the Franchise.
With Shaquille – we see a man who was mostly about himself.
He cared more about 'being the man', than about 'being a champion' – He wanted to give orders; and demand the ball but, refused to work on his free throws so that IF/when teams fouled him after getting the ball, it wouldn't turn into a wasted possession. The casual fan in the stands is not thinking of this because the casual fan is also, poisoned with the message of 'be an individual'.
So they bark of his dominance while ignoring how much MORE dominant he would've been as a 70% freethrow shooter, instead of what he was over the course of his career.
That's all Phil Jackson tried to do with Shaq; get him to be more than he was settling for.
I think that's all Kobe was trying to do as well.
But, Kobe was doing it for the team. He was set on blossoming and being more.
He wanted to grow and expand his game.
He wanted to lead a team to victory and eventually He got that opportunity.
When we look at a Dwayne Wade; he's a great player, but has never been to a championship without another dominant alpha male type personality.
This is a major aspect of what it means, for teamwork to make the dream work.
Often we are like pieces to a puzzle; often we are incomplete. Often those of us in business can look to sports to see all the answers to what is going on in our own organizations. We can see that we may need more, or less alpha males. We can see that we need more or less role players. We see the lack of chemistry or begin to notice how chemistry is playing a major role in the production – because that is the reality.
Teamwork makes the dream work in business;  just like in sports.
When Lebron first came to Miami, out of respect for Dwayne Wade he didn't wanna just take over right away. But, the two of them had a conversation after that first trip to the finals. Wade pretty much gave the reigns to Lebron; told him to do what he does best. That conversation took them to the finals 3 more years in a row; winning 2 of them.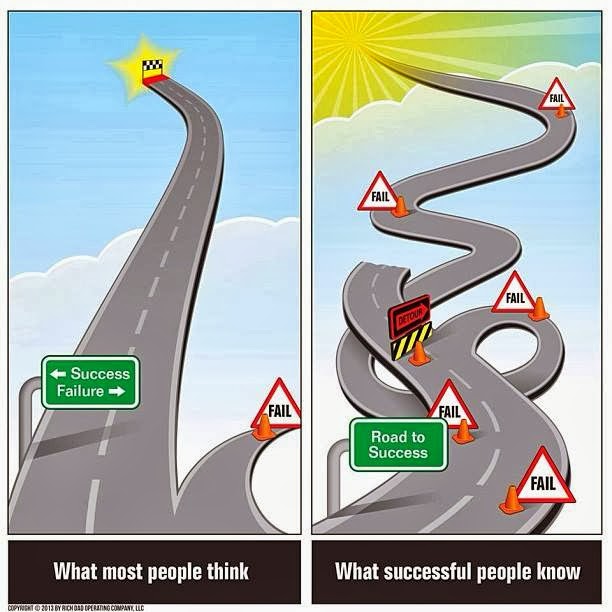 When I first saw this image of 'what most people think success looks like vs what successful people know the road to success IS like" – I thought of everything I just shared with you. This is that road to success and all those "Fail" spots are the times when we went off on our own; and tried to accomplish big things alone.  We start to get closer to the end of that road, once we finally connect with the right people.
Along the way, together, there will still be a few more 'spots' where we find out that not ALL of the people on the team; were meant to stay on the team forever; You'll lose a few key role players perhaps; and you'll stall out while you look to replace them – but so long as the core keeps moving together toward the goal; You will reach that goal.
The desire alone, is not enough.
The circumstances absolutely must come together.
A team must be built – OR you must attach yourself to a team that is being built, and play a position – a position which COULD be worth millions to you, simply by doing your part.
You may not be the star of the team – but everyone on the team gets a Ring.
Everyone on the Team gets to call themselves, A Champion!
Teamwork makes the dream work – in all areas of life – whatever you are seeking to achieve; as soon as you have the right people – who all want the same things; That Goal WILL be accomplished.
Related articles on Sports and Business from TopNetworkersGroup:
My Video on "Having The Right People" – Teamwork Makes the Dream Work!
Really and Truly, TopNetworkersGroup will be what it's meant to be, when we have the right people who want the same things that we want. We don't want to build our network over and over again. We don't want money to stop anyone from partnering up with us. We don't want anyone to be broke if we can help it. We want all of our people to be making money and so we've devised several levels to earn money together; We don't want any excuses to stop us. Our system is designed to perfectly SPIT people out who do not belong with our team. The One MLM System to rule Them All; One Team to Show them!
:: thank you for Reading this Business Training Article on how Teamwork Makes the Dream work from TopNetworkersGroup
Here are a few more Related articles that you may benefit from!