We were Right Again – one of our loudest messages here at TopNetworkersGroup is Any Business Can Go out of Business. This morning the news broke, that Vemma has been Shut Down by the FTC.
What's worse is the reasons behind why they were shut down; Read more here – FTC: Vemma Temporarily Shut Down for Operating an Illegal Pyramid Scheme
MLM has a bad enough stigma as it is. So this news is not something to celebrate. Anytime a company shuts down in the MLM industry it actually looks bad for the entire industry. It lends to the ongoing narrative that this industry is unstable, and is NOT the path to freedom that so many of us say it is.
This is why Topnetworkersgroup exists in the first place. We noticed that most people in our industry did not fully understand the industry they were part of. I would venture to say that the majority of people in Vemma did not understand either. Promising money is always a no-no. There are no guarantees in this business. There are too many variables involved to know for sure who will make what.
There are a lot of dynamics – a lot of moving parts.
Network marketing is Not Sales; it's a beast of it's own kind. But many people in this industry never learn that lesson. it sounds like that is the mistake Vemma distributors made as well. Promising people that they would earn $50,000 per month on a $600 investment is all because zealous distributors wanted to make their company sound better than the others. In an effort to make their company sound better (in spite of the fact that Network Marketing Compnaies are all the Same) they messed around and got shut down by the FTC.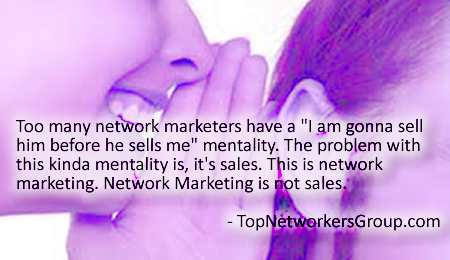 Earlier in the week on facebook I Disconnected from 2 people who have this same mentality. They want to talk about how one company is better than the other one. They want to compete against other Network Marketers. They have no real desire to listen to anybody else, or learn about anyone else. They are laser focused on themselves. They have a mentor or two that they follow, listen to and learn from. They view every single person in MLM as a number rather than as a person. These kinds of people are polluted throughout the industry today.
And that is why Topnetworkersgroup exists.
We are here to educate the uneducated. We are here to teach skills to people who lack them. We are here to create professionals, who will make professional money once they learn what they MUST learn; and do what they MUST do.
We are in the 5th Wave of Network Marketing – The Cheese has moved; your approach to making money in this industry MUST change; because the cheese has moved!
While we certainly feel sorry for people involved with Vemma, we also hope that they do not become disillusioned with the industry. The industry didn't tell you to go out and make promises to people. The industry didn't tell you to go out and require all your distributors to be on autoship. People decided to do that. People decided to approach this like an amateur instead of like a professional. They set a bad example.
But don't let that stop you from seeking out a Good example.
The good examples do exist. The good leaders do exist. The good teams do exist. Help us build and shape ours into the kind of team it can and should be. Help us Help the industry.
Join Our System – Partner up with The Group Today!
Learn how to avoid being a catastrophe of the NEXT Vemma Shut Down – the same thing that happens in our industry all the time is bound to happen again. Any business CAN go out of business. That's business! The Vemma Shut Down sucks for the industry but, it does not mean that our industry is not Better than working for someone else!